InPhonex is a new type of phone service which gives you a choice of a "Monthly Plan" or "Pay as you go" phone service. Make unlimited calls to the US and Canada or other countries using one of our incredible unlimited plans. Or, chose to pay as you go with no monthly service fees. Save money on all of your calls using InPhonex and your high speed Internet connection (DSL or cable) instead of regular phone lines. Get free features like Caller ID, Call Waiting, and eVoicemail, which traditional phone companies extra charge for.
Why Choose InPhonex?
We offer incredible phone service and more!
Low monthly fees
Many free features
High quality
Free worldwide in network calls
No contracts
Low international rates
Web based account access
How Does InPhonex Work?
With InPhonex, you connect your telephone to your high speed Internet connection using an analog telephone adaptor or directly using another Internet phone. You can be up and running in minutes.
Below is an example of a typical installation.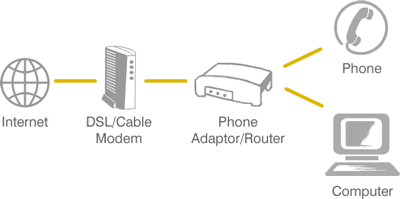 When you make a call using InPhonex, your voice is sent through the Internet. Our network allows your call to be connected and sounds just like any other call. You receive calls just like you would using your traditional phone service. When someone calls your number, your phone rings and you answer like any other phone service. With InPhonex, you can save over 50% off your phone bill and even more on international calls. Sign up today and start saving.
A broadband Internet connection such as cable or DSL.
An Internet telephone, phone adaptor or Softphone
A credit or debit card (international cards are okay).
How do I connect to the InPhonex network?
Phone Adaptors, Internet Phones and Softphones
Analog Telephone Adaptor (ATA)
InPhonex service works well with many widely available analog telephone adaptors. This allows you to easily connect your traditional telephone to the InPhonex network using your broadband connection. Simply connect an Analog Telephone Adaptor to your modem or router and you're ready to go. You can bring your own adaptor or chose to purchase one from InPhonex. We offer devices to fit many needs, check out which one is right for you at our products page. Most analog telephone adaptors are very portable and can be used wherever you connect to the Internet.
Internet Phones
You can use the InPhonex service with an Internet phone and connect without the need for a standard telephone. Networking manufacturers like Linksys now offer a phone that connects directly to your broadband connection. These high quality devices allow you to receive many new features directly on the phone. You can bring your own Internet phone or chose one from our Products Section . You can use an Internet phone with our network from anywhere you connect to the internet.
Softphones
A softphone is a software application which allows you to make and receive phone calls from your computer. These applications are great for trading and even work from a hotspot or other wifi Internet connection. Download now to see how a softphone can work for you.
Traveling with InPhonex
Your InPhonex account is easy to travel with. You can use it anywhere in the world where you have a high speed Internet connection. Use your account while traveling and you can eliminate high fees to make calls and still receive calls as you would while at your home location.
What is Broadband?
Broadband is a high speed Internet connection using a DSL or cable modem. The connection is always on and offers higher speeds than dialup.
What is VoIP?
VoIP stands for Voice over Internet Protocol and lets you use your Internet connection for phone service rather than traditional phone lines.